Invisible plumbing leakage? Our proficient video camera inspection team makes it visible to you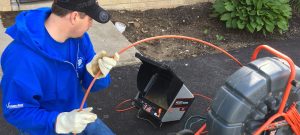 Is your plumbing system not in the right shape? DIY solution cannot give you the best outcome. Nowadays, lots of homeowners love technology, and we are also the tech-savvy plumbers to manage their plumbing issues with the technological assistance. At Clear Plumbing Malibu, we are equipped with the latest and most refined Sewer Camera Inspection tools. Our modern accessories enable us to present you with the fastest solution with the detection of the source of your issue.
Our team is specialized at helping you with Plumbing Video Camera Inspection. You may not have this sophisticated camera at your home or office. However, we have invested on it for the advantage of our clients and also our technicians.
Your pipes have presently leakage issues. It is very time-consuming to find out the reason behind complication by using our naked eyes. That's why we have employed our video camera for the easier solution. Our camera gives us a view of a condition of your piping network. It will snap the picture of both interior and exterior side of the pipes. Thus, we are able to trace out the impending issues of the pipes without much effort.
Never hesitate to call our plumbers' team
The hidden and untreated water leakage may cause damage, mold and rotting issues to your property. This is the best time to identify the problem and also repair them on time.
We think that it is essential to find out the blockage potential since the pipes get too much stress from the clogs. Therefore we make sure that water is flowing through your pipes smoothly. We also control the water pressure of your pipes. However, to do all these things, we inspect every part using our camera.
Our video camera helps us in avoiding any guesswork on the pipe's health. It also helps our certified plumbers get a clean and comprehensive view of the pipe and give you the right information.
Our clients have lots of reasons to rely on our plumbing video camera assessment team
Retrieval of the valuable items– You may have dropped one of the small personal items into your drain. Never get hopeless in this situation. We help you in tracing it out by installing our camera.
Inspection of the chosen house– You have thought of buying a house. However, you do not know whether there is plumbing issue in that house. We offer fast inspection service with technical plumbing skills.
Inspections for remodeling– Are you going to fit in a new appliance in your bathroom? Check out whether your present plumbing design is able to withstand it.
Assessment of the septic system- It is essential to restore the condition of this unit. Our assessment process to know the need of repair.
The way we manage a lot with sewer camera inspection
Choose professionals. When one of the technicians of our team is controlling the video camera, all other members get the instant live feed for your plumbing units. They find the clear picture in their monitor. From the potential leakage spots to blockage of pipes, everything is detectable easily. We give you detailed information on the plumbing section, and you will be pleased to see it.
Thus, rely on our plumbing video inspection specialists to keep away from any emergency situation in future. We locate the spots to be repaired and take the instant steps for solving them. Don't wait, help is just around the corner. Contact us today on (310)707-1080